Chess usually has a winner, or a loser. (See article on how to win) But in the case neither side wins, it's know as a draw. Here are the main six ways to draw: 1. Offered draw: A played can offer a draw any time in the game, but it is usually done it positions where neither side can win. Here's a position: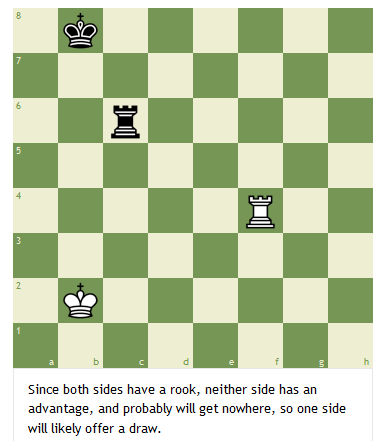 2. Stalemate. Stalemate is one of the more complicated things about draws. It is acheived when one side has no legal moves, but is not in check. Example a:
Example b:
3. 50 move rule. A game is drawn if 50 moves have passed without a capture or pawn move. Here's an example:
4. Insuffficient material. In a position where neither sides can legally checkmate their opponent, it is drawn by insuffiecient Material. Example:
5. 3 move repition. If one is in the EXACT same position 3 times in a game it is a draw. THe reasoning is that the game is probably going nowhere, and is a draw. Example:
6. Perpetual check. If a person is checked over and over again, and can't get out of this, this is a sister rule to the 3 move repition. If you play checks repitedly and you opponent can't get out, it's stalmate. Example.
Beyond:
How to look for draws.
How do you find draws in your games? Look for things like:
1. 6,7, or 8 locked up pawns.
2. Lot's of checks
3. Endgames with the same material.
4. Repetitive positions

I hope you learned lot's in this article. And remember, to play your best, learn, and to have fun!
Reguards, Disaster